Greetings from Hopatcong, New Jersey, USA.
Click here to learn more about our town!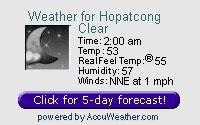 Thanks for stopping by!
Drop by frequently and see what's new!

We've lost our guestbook entries and had to switch to another guestbook, so please sign again!

Please feel free to look around and drop us an e-mail!

Click here to learn about donating your old cell phones to provide calling cards, VOIP service, satellite phones, etc. to US soldiers serving abroad so they can call home. Read the background about a 13 year old girl and her 12 year old brother who started the organization! You can find a drop-off site or just mail them!
Bravenet Financial Tools
Headlines from the New York Times...
Need to find something on the web? Use one of the best search engines around - Google!

Use Instant Messaging (IM) programs like AOL IM, Yahoo, MSN, ICQ or IRC? Twitter, Facebook, MySpace?

If you use more than one IM account check out Digsby!
It lets you access all your IM accounts using one program! You can send and receive messages from all your accounts simultaneously using one program, monitor and respond to different e-mail accounts and monitor your social networking sites all from one program!